About us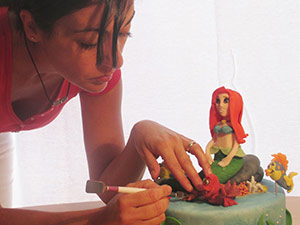 My name is Teresa and I was born and raised on the beautiful island of Ischia, Italy.
I grew up in a house that always smelled of delicious food since my mom is such a great cook and baker.
For sure, she is the one who inspired my deep passion for cooking and baking.  I baked my first vanilla pound cake all by myself when I was only 8 years old and from that day forward, I always found myself wanting to bake for friends and family.
I always loved arts and craft as well, so in my university days, while studying law during the day, in the evening I relaxed by creating sculptures made of salt, flour and water. Beautiful creations that ended up melting away because of the humid climate of the island that I lived on!
At the same time I loved to paint on glass.  I had no idea that with my two hobbies, I was laying the groundwork to be a cake designer.
I moved to the USA 8 years ago to follow the great love of my life, my husband Paul. We have two beautiful little children now and I love to throw birthday parties for them. At my parties, there is always plenty of food for all my friends and family.
Five years ago I was searching for some ladybug decorations for my daughter's first birthday party cake, I do not know how I came upon fondant and gum paste creations. I had no idea of the existence of such wonderful materials and I suddenly felt like a kid in a candy store… I realized I could combine all the greatest passions of my life: baking, modeling/sculpting and painting! I was the happiest woman in the entire world! And that is where it all started. Encouraged by my dear friends and family, Dolce Ladybug was born. Never was there a more appropriate name for my business since "dolce" in Italian means "sweet/dessert" and the ladybug, always my favorite little creature, was my first sweet creation.
My wish is to bring smiles to the faces of all my clients and their guests with my cake designs. Seeing and hearing about the amazed looks and reactions at the sight of one of my cakes is the most satisfying feeling and biggest compliment I could ever receive!